TWEE OPLOSSINGEN – VERSCHILLENDE PRIORITEITEN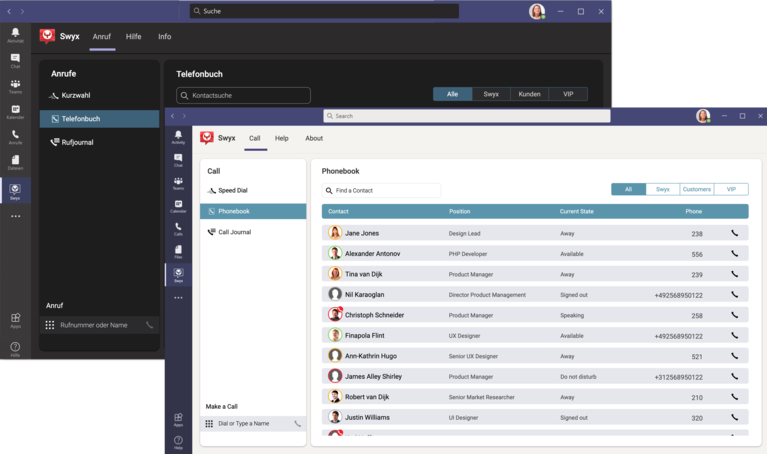 Als onderdeel van Microsoft 365 wordt Microsoft Teams steeds vaker gebruikt in bedrijven voor messaging en andere teamfuncties. Er is enige functionele overlap met de Swyx-oplossing, niet alleen in de samenwerkingsfuncties maar ook in de opgenomen telefoniefuncties.
Met zijn uitgebreide PBX-functionaliteit ligt de focus van Swyx duidelijk op communicatie. Sterke oproeprouteringsmogelijkheden, flexibele terminalondersteuning, maar ook uitgebreide aansluitmogelijkheden op het openbare telefoonnet zorgen voor een optimale bereikbaarheid in het bedrijf en maken een perfecte klantenservice mogelijk.
MICROSOFT TEAMS ALS TELEFOONSYSTEEM GEBRUIKEN?
De Teams-oplossing ondersteunt ook telefoniefuncties, dus de vraag is of het scala aan functies voldoende is om alle bedrijfskritische communicatietoepassingen met met name Microsoft Teams aan te kunnen.
Bij nadere beschouwing blijkt echter al snel dat telefoniefuncties niet bijzonder sterk zijn in Teams. Enerzijds betreft dit de infrastructuur, met name de integratie van analoge apparaten zoals fax, deuropeners, intercoms of mobiele DECT-apparaten. De integratie van deze apparaten met Teams kan alleen worden gerealiseerd met hoge integratie- en adviesinspanningen. Daarentegen wijkt de werking van de telefoniefuncties in Teams sterk af van het gebruikelijke telefoniegedrag. Dit kan resulteren in extra trainingsinspanningen voor gebruikers.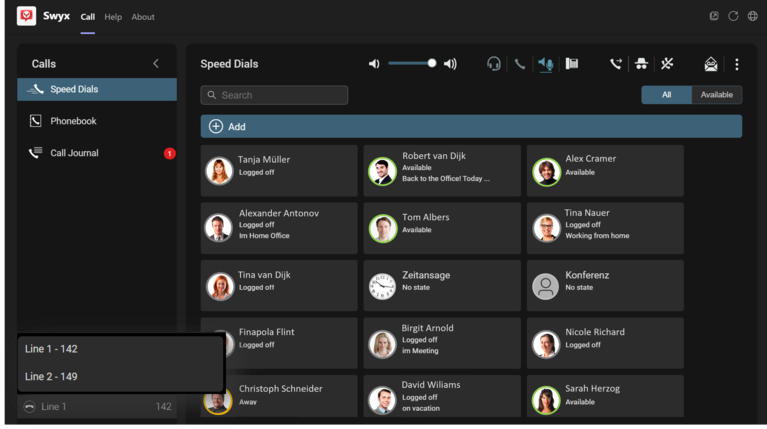 UITBREIDINGEN
SWYX VERSIE 13.10
1. Melding gemiste oproep
2. Lijn/extensie selectie
3. Selectie audioapparaat
4. Volumeregeling
5. Toetsnavigatie
6. Oproepjournaal: naamresolutie

TEAMS & SWYX: IMPLEMENTATIESCENARIO'S
https://www.adfocom.nl/wp-content/uploads/2022/03/Microsoft_Teams_Dark_Mode.png
429
767
Wilco
//www.adfocom.nl/wp-content/uploads/2015/03/ADFOCOM-logo.png
Wilco
2022-03-15 16:23:47
2022-03-22 14:53:15
Een krachtig team Swyx en Microsoft Teams