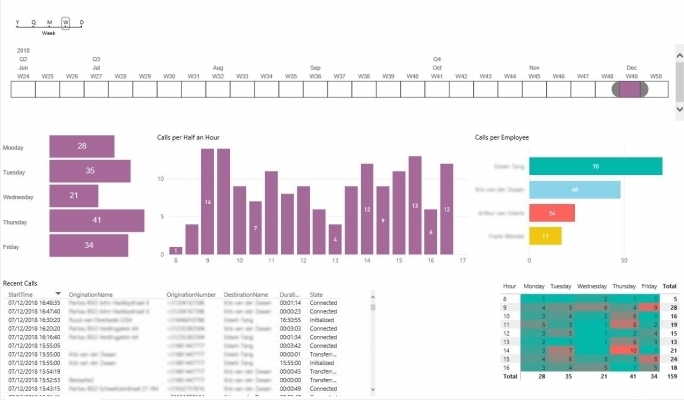 MIST U EEN TOTAAL OVERZICHT VAN UW BEDRIJF OF AFDELING?
Met de komst van PowerBI is inzicht in bedrijfsinformatie niet langer een probleem. Heeft u nog geen inzicht? Start dan direct met PowerBI. Is er al wel een oplossing aanwezig, stel uzelf dan de vraag of aanvullende wensen eenvoudig te realiseren zijn.
Begint u de dag al vanuit één dashboard? Een overzicht dat direct vertelt waar uw bedrijf of afdeling staat?
Inzicht in financiën, service verzoeken, inzetbaarheid van resources? Laat u door ons inspireren!
In individuele rapportages bij genoemde bronnen zit al een schat aan informatie. Combineer deze informatie in één overzicht en beeldt u zich eens in wat dat u kan vertellen. En dit met de mogelijkheid om door te "zoomen" op die betreffende informatie.
PowerBI is volwassen. Toen Adfocom in 2015 met Power BI aan de slag ging was de functionaliteit al veelbelovend. In de daarop volgende jaren is deze functionaliteit alleen maar uitgebreider geworden. Belangrijkste kenmerk van PowerBI is de flexibiliteit. Denk daarbij aan 120+ connectoren om informatie te ontginnen uit de diverse systemen. En dit alles geleverd vanuit de cloud en daardoor oproepbaar via iedere browser en op elke mobiel of tablet. Dit gecombineerd met de laagdrempeligheid om te starten maakt het een onmisbare oplossing voor iedere omgeving.
Als voorbeeld nemen we de helpdesk bij Adfocom. Welke informatie combineert Adfocom om daar een duidelijk beeld te krijgen:
Resource informatie – Inzetbare uren o.b.v. informatie uit de planning.
Telefonie informatie – Gespreks- en wachtrij informatie.
Melding informatie – Zowel open als gesloten tickets geven informatie m.b.t. de geleverde oplossing en de daarvoor benodigde tijd.
Contract informatie – Wat is het beoogde doel? Denk aan o.a. de SLA.
PowerBI vertelt in één oogopslag hoe er wordt gepresteerd en waarop kan worden gestuurd. Op het moment zelf en achteraf.
Is er reeds een BI oplossing aanwezig? Plaats PowerBI er eens naast en ervaar het volledige potentieel van PowerBI.
Maakt de bestaande oplossing gebruik van een "kubus" of "datawarehouse"? Daar kan PowerBI prima mee koppelen. Al kan dat juist ook het pijnpunt zijn. Met PowerBI kun je zonder dergelijke bouwstenen werken. Alsnog heeft u dan al in enkele uren een dashboard. Direct beschikbaar, voor iedereen, op ieder apparaat en op elk moment.
Neem nu contact met ons op voor een vrijblijvend gesprek of een presentatie van alle mogelijkheden!