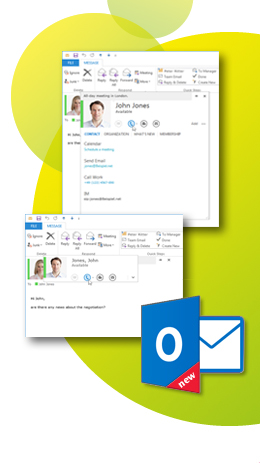 Vanaf 20 december 2013 zal SwyxWare 2013 R3 beschikbaar zijn. De meest opvallende functie van de nieuwe versie is de Office Communication AddIn .
Via de nieuwe Office Communication AddIn kun je de aanwezigheid status zien in Outlook van je Microsoft Office contacten die gebruik maken van SwyxWare. Afhankelijk van de zichtbare aanwezigheid status ("Beschikbaar","Away","niet storen " of "afgemeld") kun je dan via de Outlook contactpersoon beslissen hoe je contact opneemt: via e-mail of via telefoon. Verder optimaliseert de Add-in Microsoft Word: Swyx gebruikers die samenwerken in documenten en deze delen, kunnen ook de aanwezigheid status van individuen die wijzigingen aan een document hebben verricht zien en hebben de mogelijkheid om direct in contact komen met deze persoon . Dus, als je vragen hebt over de wijzigingen die gemaakt zijn in een document kun je gewoon direct bellen vanuit de applicatie.
Naast de nieuwe functies op basis van de Office integratie , is er ook een nieuw SwyxIt ! Mobile Client (SwyxIt! Mobile 2013) beschikbaar: De functies in de nieuwe versie zijn geoptimaliseerde caching van contacten, een kortere opstarttijd en de client kan nu ook gebruikt worden in offline modus. Verder is de SwyxIt! Mobile Client aangepast voor de nieuwste iPhones. Tot slot kunnen gebruikers nu hun eigen individuele foto gebruiken met behulp van de mobiele camera en deze uploaden in de SwyxIt! Mobile client.

//www.adfocom.nl/wp-content/uploads/2015/03/ADFOCOM-logo.png
0
0
Wilco
//www.adfocom.nl/wp-content/uploads/2015/03/ADFOCOM-logo.png
Wilco
2013-12-16 10:33:43
2017-02-06 22:08:48
SwyxWare 2013 R3 vanaf 20 december 2013