Al eerder heb ik geblogd over Swyx desktop client voor MAC OS X. Nu is hij ook beschikbaar in de MAC APP Store: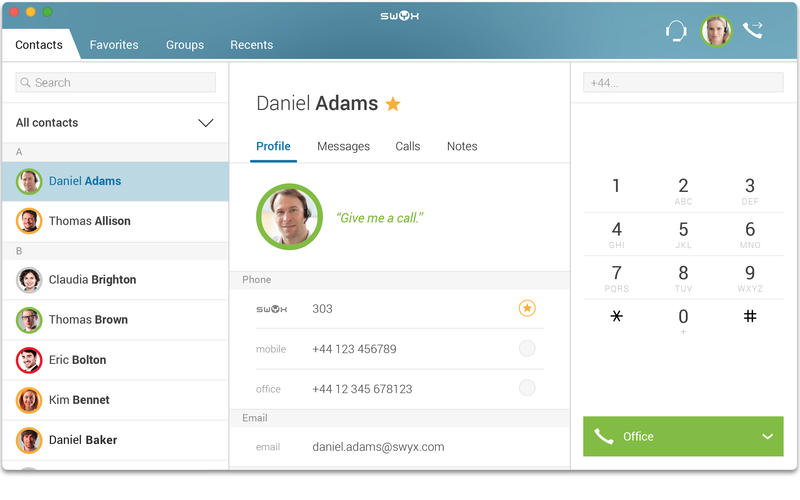 De volledig herontworpen interface van de OS X client is nu op Mac computers beschikbaar en maakt het mogelijk te integreren in uw zakelijke communicatie-omgeving, met de effciëntie die u van software op een Apple apparaat mag verwachten.
Uitgebreide informatie in het Engels: (Bron: www.swyx.nl)
Highlights
User experience (UX) designed and optimised for intuitive use – no training required
Flexible and Dynamic User Interface
Superior Audio Quality with Voice Calls in HD (High Definition)
Social Network Integration to easily include business contacts from XING network
Easy-to-use Presence Management maximises reachability within the company
Features
HD Voice Calling & Call Handling
Navigate contacts, favourites, call history and dial pad
Initiate calls from dial pad, contacts/phonebook via filter, redial (list) via recent call, caller lists, any application hotkey
Call Handling:

transfer, forward, mute, hold and swap calls
Inquiry
Transfer with Inquiry
Blind Call Transfer

Support of Audio Modes: headset, hands free

Call signalling for internal and external calls
Signalling of a second call

Number Handling:

Hide ID for outgoing calls
Block dialling
Vanity numbers
Name resolution for numbers

Voicemail: Support for voicemail with Message Waiting Indicator (MWI), Listen to voicemail
Contact Management and Phonebook:

Filter and search contacts with support for contact avatars and sub-scriber status (Global/Business contacts, Personal contacts)
Create favourites for contacts

Caller Lists:

Filter and search caller lists
Caller Lists (with date, time and duration: All calls, Incoming calls, Outgoing calls, Missed calls)
Missed calls indicator

Conferences:

Make HD conference calls,
User initiated ad-hoc conferences
Three-way conferences

Basic Call Routing:

Do Not Disturb
Call forwarding on busy
Call forwarding no reply
Call forwarding unconditional
Call forwarding if subscriber logged off

Presence Management:

Set own presence state and status message
Support for extended presence states (e.g. logged off, accessible, away, do not disturb, status text
Signalling of availability/presence state and status message in favourites ("speed dials")

Profile Management:

Set own presence status and status message

Integration of XING: Include user's XING business contacts in Swyx phonebook
System Requirements
Supports Apple Mac OS-X 10.10 (Yosemite) or higher on client side and SwyxWare 2015R2 on server side.