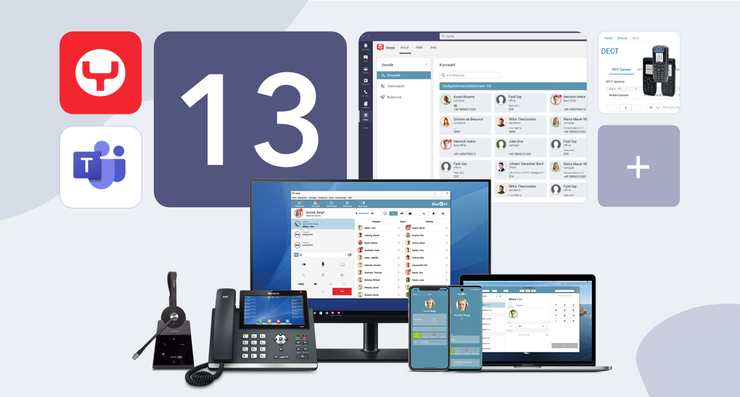 Samen nog beter: Swyx versie 13 met nieuwe connector voor Microsoft Teams is nu beschikbaar
Met de Swyx Connector voor Microsoft Teams kunnen de belangrijkste telefoniefuncties van Swyx direct in de Teams-gebruikersinterface worden geïntegreerd.
Swyx heeft de integratiemogelijkheden van zijn eigen communicatieoplossing met Microsoft Teams verder verbeterd: met de nieuwe Connector voor Microsoft Teams kunnen gebruikers die beide oplossingen gebruiken de beproefde telefoniefuncties van Swyx nu rechtstreeks van de Microsoft Teams applicatie gebruiken. Dit betekent dat gebruikers snel toegang hebben tot de belangrijkste functies, zoals het centrale telefoonboek, oproeplijsten en contactfavorieten, en gekoppelde apparatuur direct in de Teams-client kunnen bedienen. Bovendien is op de achtergrond een compacte Swyx Client beschikbaar voor de configuratie en bediening van verdere comfortfuncties, zoals individuele doorschakelregels met behulp van Extended Call Routing (ECR). Dit verhoogt de gebruiksvriendelijkheid en stelt gebruikers nu in staat om het beste van beide productwerelden nog gemakkelijker te combineren.
Optimale interoperabiliteit tussen Microsoft Teams en Swyx wordt ook verzekerd door de beschikbare aanwezigheidssynchronisatie tussen de twee oplossingen. Als een gebruiker bijvoorbeeld in een Teams-vergadering zit, neemt de Swyx Client de status "Bezet" of "Niet storen" over, zodat inkomende oproepen automatisch kunnen worden doorgeschakeld.
Profiteer van uitgebreide telefoniefuncties met Swyx
"Met de Swyx Connector voor Microsoft Teams bieden wij een oplossing niet alleen aan klantgroepen die op zoek zijn naar een totaaloplossing op het gebied van unified communications en collaboration, maar ook aan bedrijven die vertrouwen op Microsoft Teams als een interne samenwerkingstool voor messaging en bestandsuitwisseling, maar die hun externe communicatie tegelijkertijd efficiënt en servicegericht maken met de Swyx-telefoniefuncties", zegt Marco Crueger, VP Sales bij Swyx. De telefonievoordelen die Swyx biedt, zijn onder meer integratiemogelijkheden met CRM- of ERP-databases, efficiënt wachtrijbeheer en flexibele ondersteuning voor het volledige scala aan eindpunten. Bovendien zijn klanten die op Swyx en Microsoft Teams vertrouwen vrij om hun telefoonnummers en hun favoriete SIP-trunkprovider te kiezen. Er is geen extra hardware nodig. "Onze oplossingen kunnen precies worden afgestemd op de behoeften van een bedrijf: ze zijn beschikbaar vanuit Swyx' eigen cloud of vanuit partnerclouds, en voor installaties op locatie bieden we naast het aankoopmodel ook de mogelijkheid om functies op maandelijkse basis te huren als onderdeel van Swyx Flex en draaiend op een dedicated server. Resellers kunnen hun klanten dus maximale flexibiliteit bieden, ook in financieel opzicht", legt Marco Crueger uit.
Naast de naadloze integratie die Swyx biedt met versie 13, kunnen klanten de twee oplossingen blijven verbinden met behulp van een door Microsoft gecertificeerde Session Border Controller om de voordelen van Swyx en Microsoft Teams te combineren. Deze optie is met name interessant voor grotere organisaties die al een Microsoft Enterprise-licentie hebben.
Bovendien biedt de nieuwste versie 13 van de Swyx-communicatieoplossing verdere verbeteringen en nieuwe functies, ook voor gebruikers van de DECT800-oplossing. Hiervoor zijn er nu nieuwe opties op het gebied van oproepjournaalsynchronisatie, zoeken in het wereldwijde telefoonboek en one-touch-provisioning.
zie voor meer informatie: Swyx and Microsoft Teams – Swyx