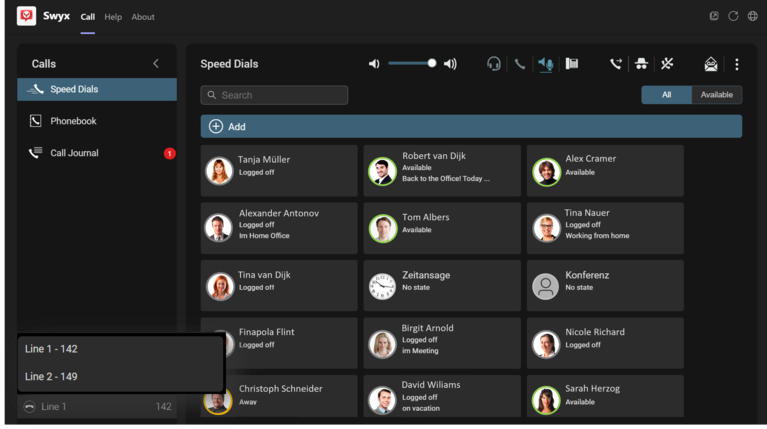 Een krachtig team Swyx en Microsoft Teams
TWEE OPLOSSINGEN – VERSCHILLENDE PRIORITEITEN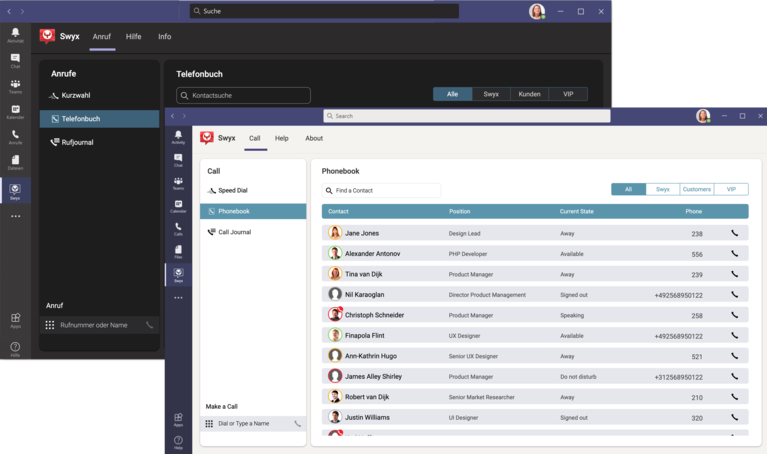 Als onderdeel van Microsoft 365 wordt Microsoft Teams steeds vaker gebruikt in bedrijven voor messaging en andere teamfuncties. Er is enige functionele overlap met de Swyx-oplossing, niet alleen in de samenwerkingsfuncties maar ook in de opgenomen telefoniefuncties.
Met zijn uitgebreide PBX-functionaliteit ligt de focus van Swyx duidelijk op communicatie. Sterke oproeprouteringsmogelijkheden, flexibele terminalondersteuning, maar ook uitgebreide aansluitmogelijkheden op het openbare telefoonnet zorgen voor een optimale bereikbaarheid in het bedrijf en maken een perfecte klantenservice mogelijk.
MICROSOFT TEAMS ALS TELEFOONSYSTEEM GEBRUIKEN?
De Teams-oplossing ondersteunt ook telefoniefuncties, dus de vraag is of het scala aan functies voldoende is om alle bedrijfskritische communicatietoepassingen met met name Microsoft Teams aan te kunnen.
Bij nadere beschouwing blijkt echter al snel dat telefoniefuncties niet bijzonder sterk zijn in Teams. Enerzijds betreft dit de infrastructuur, met name de integratie van analoge apparaten zoals fax, deuropeners, intercoms of mobiele DECT-apparaten. De integratie van deze apparaten met Teams kan alleen worden gerealiseerd met hoge integratie- en adviesinspanningen. Daarentegen wijkt de werking van de telefoniefuncties in Teams sterk af van het gebruikelijke telefoniegedrag. Dit kan resulteren in extra trainingsinspanningen voor gebruikers.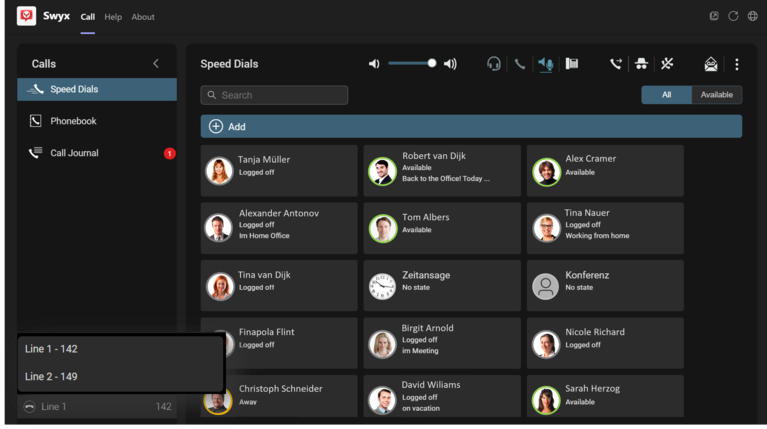 UITBREIDINGEN
SWYX VERSIE 13.10
1. Melding gemiste oproep
2. Lijn/extensie selectie
3. Selectie audioapparaat
4. Volumeregeling
5. Toetsnavigatie
6. Oproepjournaal: naamresolutie

TEAMS & SWYX: IMPLEMENTATIESCENARIO'S

OPTIE 1: TEAMS EN SWYX PARALLEL GEBRUIKEN 
De eenvoudigste manier om Microsoft Teams en Swyx te gebruiken, is door beide oplossingen parallel uit te voeren en de functies te gebruiken die passen bij de sterke punten van elke oplossing. Dus bijvoorbeeld voor messaging en bestandsuitwisseling Teams
Vanuit het oogpunt van de gebruiker kunnen de functionele overlappingen echter nadelen opleveren op het gebied van gebruiksvriendelijkheid. Tijdens een online vergadering met Swyx kan bijvoorbeeld een interne oproep van een Microsoft Teams-gebruiker binnenkomen. Of in een groepsvergadering met Microsoft Teams ontvangt de deelnemer een externe klantoproep. Om de twee oplossingen beter op elkaar af te stemmen, streeft Swyx ernaar om de interoperabiliteit van beide oplossingen voortdurend te optimaliseren.en voor alle telefoniefuncties de Swyx oplossing.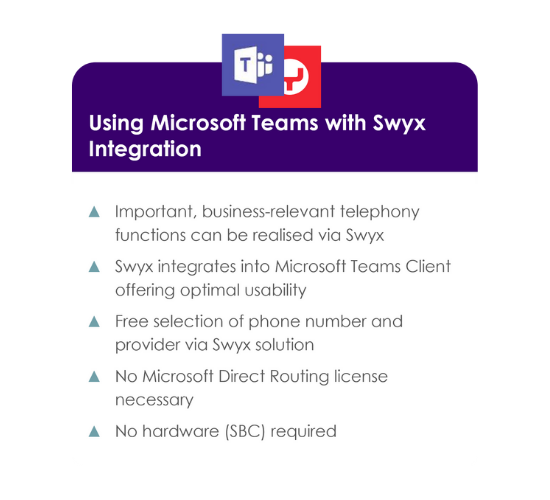 OPTIE 2: SWYX-INTEGRATIE IN MICROSOFT TEAMS
Met de Swyx Connector voor Microsoft Teams integreer je naadloos de belangrijkste telefoniefuncties in Microsoft Teams. Dit zorgt voor maximale gebruiksvriendelijkheid, omdat het betekent dat de gespecialiseerde telefoniefuncties van Swyx eenvoudig vanuit Teams kunnen worden gebruikt. Voor configuratie en bediening is een compacte Swyx-client beschikbaar, die alle handige functies op de achtergrond biedt. Bovendien wordt de respectievelijke aanwezigheidsstatus van Microsoft Teams-deelnemers automatisch gesynchroniseerd met de aanwezigheidsstatus van de Swyx-oplossing. Dit betekent dat als een deelnemer in een Teams-conferentie zit, alle oproepen automatisch kunnen worden doorgeschakeld. Stel individuele oproeproutering in waarmee oproepen intelligent worden gerouteerd op basis van aanwezigheidsstatus.
OPTIE 3: SWYX-INTEGRATIE IN MICROSOFT TEAMS PLUS DIRECTE ROUTERING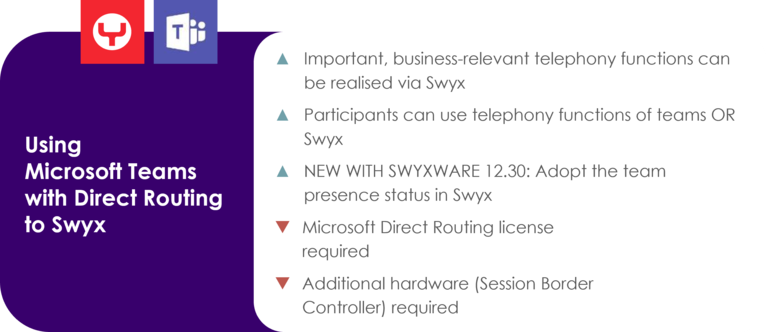 De zogenaamde "Direct Routing" is een Microsoft-functie die de koppeling van het openbare telefoonsysteem via een Session Border Controller (SBC) met het Microsoft-telefoonsysteem mogelijk maakt. Hiermee kan een telefoonsysteem, zoals Swyx, worden aangesloten, zodat telefonie naar externe deelnemers in Microsoft Teams mogelijk is.Andere voordelen van het gebruik van "Direct Routing" in combinatie met Swyx zijn ook:
Ondersteuning voor telefoongesprekken tussen Swyx- en Microsoft Teams-gebruikers:
Swyx-gebruikers kunnen alle beschikbare apparaten gebruiken, inclusief clients, Microsoft-gebruikers kunnen de Teams-client gebruiken.
Gebruikers van Microsoft Teams hebben de mogelijkheid om gesprekken intelligent te verdelen met Swyx Extended Call Routing.
De bestaande aansluiting op het openbare telefoonnet (bijv. SIP-trunk)
kan nog steeds worden gebruikt, telefoonnummers of verbindingen hoeven niet overgezet te worden naar Microsoft.
Samen met de Swyx-integratie in Microsoft Teams vertegenwoordigt Direct Routing de meest uitgebreide koppeling van beide oplossingen. Voor gebruik zijn echter naast de benodigde hardware (Session Border Controller) aanvullende Microsoft-licenties vereist. De hogere kosten maken deze optie dan ook vooral interessant voor grotere bedrijven die al een Microsoft Enterprise licentie hebben.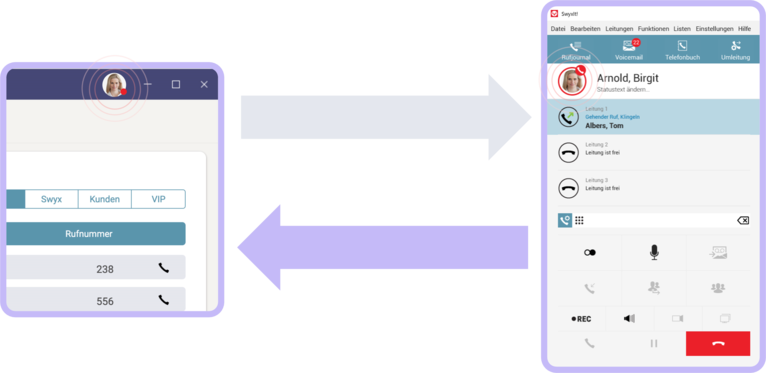 CONCLUSIE: BETER SAMEN MET SWYX EN MICROSOFT TEAMS
Welke optie bedrijven ook kiezen – het is logisch om de applicaties in het bedrijf zo te gebruiken dat ze zowel aan de gebruikerszijde als aan de klantzijde het grootst mogelijke voordeel bieden. Door de vele integratiemogelijkheden is Swyx de ideale oplossing om samen met Microsoft Teams synergie te creëren in het bedrijf.
Bron: https://www.enreach.de/en/swyx-and-microsoft-teams.html